Which manlift do you need?
You know you need a manlift but with so many brands, models, and sizes, how do you pick the right one for the job you're trying to complete?
From articulating boom lifts to platform scissor lifts, getting the right piece of equipment can be confusing. At 2S Elite Rentals, not only can we offer a wide variety of lifts to fit your needs, but we can help you decide which one is right for you.
When renting a lift, here are some things to consider:
What's the Job?
The two basic lifts are the scissor lift and the boom lift.
Scissor lifts operate in the up-down position while boom lifts provide a forward reach. Articulating boom lifts also provide a bit of a turning capability in the boom which gives it the ability to reach around corners or up and over beams, roofs, etc.
Scissor lifts are popular for painting and ceiling work when the lift can get right up in the space that needs the work. The base is as big as the platform which means they fit into small spaces and don't require as much space to maneuver – unlike boom lifts which have a bit of a neck on the body.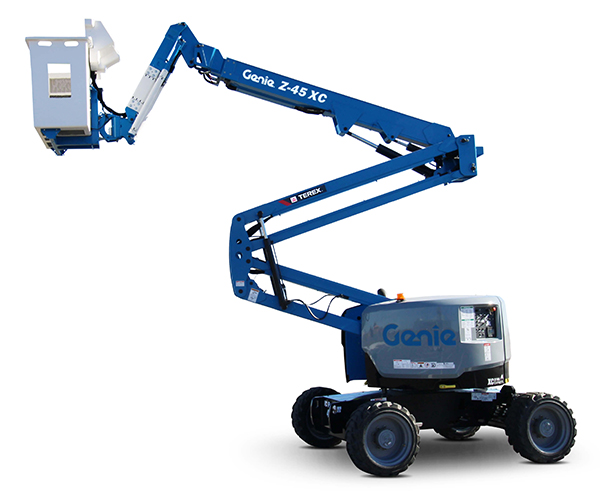 The Genie 60-foot articulating boom is just one of several lift offerings available at 2S Elite Rentals.
How tall do I need the aerial lift to go?
Height and range are key considerations when looking to rent a man lift. Range refers to the horizontal space that is achieved by a telescopic boom lift, specifically. It's important to keep this in mind not only for the job itself but the space that the lift needs to enter and maneuver in.
All lifts should be able to fit through entrance ways and turn as needed – all without hitting any obstacles.
What am I lifting?
This question is important for two reasons. The first is the size of the platform.
You can't lift anything that is bigger than the platform itself. If you expect to raise drywall or some type of light fixture, the platform must be big enough to accommodate the entire piece or material.
The second point to this question is weight. Depending on the size and reach of the machine, the max weight capacity changes. Consider the material, its weight and reach before setting your mind on a specific type of lift.
If you aren't sure about max weight and reach capacity, the 2S Elite Rentals team is here to help answer your questions and provide direction for which man lift rental is best for your job.
Remember that Bigger isn't Always Better
With lifts, sometimes the mindset is that going bigger is better because you can just not extend it all the way or just move the base further away. The opposite is true, actually. Having a lift that is too large for a job also means that it's much too heavy and could be more difficult to maneuver in the space of the project. Bulkier lifts may be more likely to hit wires, beams, columns, or other obstacles.
Ending up with a lift that is too small on the other hand could mean that you push the machine past its limit. Overreaching or loading material that goes beyond the weight restriction is just asking for an accident.
It may take extra time to take proper measurements but the safety of contractors and a project is worth it.
Renting a Man Lift
Lifts are usually used for shorter periods of time with very specific projects or tasks. Large boom lifts, for example, could cost more than $50,000 to purchase. That also means that you could be stuck with one machine that doesn't work for every project.
Renting a lift at 2S Elite Rentals gives you the ability to truly choose the best machine for the job – no matter how long or short the job is.
Still not sure which lift is best for you? Contact the 2S Elite Rentals team and speak to an expert in equipment rentals.